Kitchen furniture: functionality and aesthetics
It is common for furniture aesthetics to have a decisive weight in your choice. However, try not to neglect its functional aspect. It is necessary that your new kitchen furniture meets three fundamental criteria.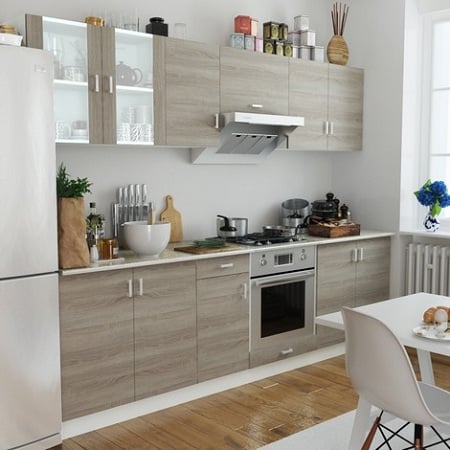 Easy access
In the language of cooking enthusiasts, there is a concept called the work triangle standard, which states that the refrigerator, the oven, and the sink must be located in such a way that they minimize user movements. Ideally, a parallel linear arrangement: on the one hand, the hot space (oven and hobs); on the other, the cold space (refrigerator, sink). Related: Raymond and flaming furniture
Remember that it is not you who must adapt to your kitchen, but she who must respond to your tastes and needs.
If you are short, you should give priority to short modules, and high modules and to high elements if you are taller (especially in the case of the sink and countertop). If you bend over or lean it costs you more than before, opt for interior management accessories that simplify your daily life (revolving doors for corner furniture and sliding drawer bottoms to bring its contents closer without getting on your knees).
Workspace cleared
Depending on the size and shape of your kitchen, place the furniture so that you retain a large and practical workspace for cooking and handling your dishes or utensils. A chef's trick: choose a counter that is deeper than the drawers, to create a space that facilitates the passage of pipes and wiring. Worth.
Easy and simple maintenance
Whether you're an expert-novice between fires, you can not avoid the splashes of fat and water on your pretty kitchen furniture. Save yourself the discomfort and opt for easy-to-maintain materials that are cleaned with a simple sponge pass.